Electric Honda Prologue SUV Announced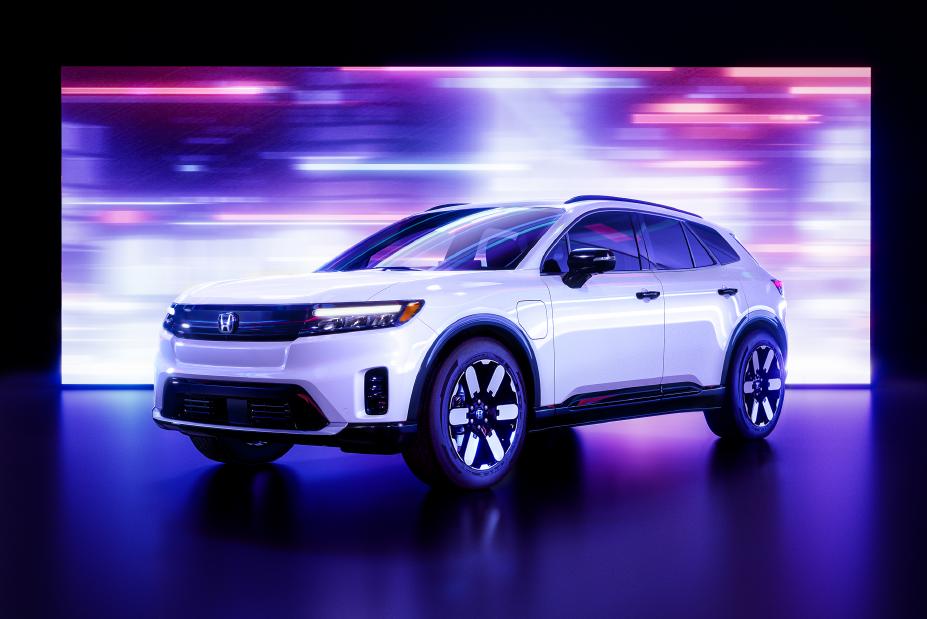 Electric Honda Prologue SUV Announced
Honda released the first look at the all-new Honda Prologue. The company's first battery-electric SUV design features a clean and simple "Neo-Rugged" exterior, interior styling, and ample interior space ready for an adventure inside and outside the city limits. The all-new  Prologue will complement Honda's light truck lineup, positioned above CR-V and alongside Passport, offering generous passenger and cargo space.
Neo-rugged Design!
The Honda design team created the exterior and interior styling of the all-new Prologue. They set out to create a modern and fresh Prologue with clean and simple surfaces. Honda is calling this design Neo-rugged, bringing harmony of nature's elements to the exterior and interior of Prologue. This design direction is reflected in details like the panoramic roof and large 21-inch wheels.
Electrified Badging on the all-new Honda Prologue!
To harmonize their EV models, Honda created the "H-mark" badge. This badge is placed on the rear of the Prologue, replacing the full Honda brand name badge. The H-Mark badge represents the modern and clean design of the Prologue. In addition, Prologue will adopt the brand's e: series name badging to align with Honda's global EV models.
How big is the Honda Prologue?
The Honda Prologue was conceived as a modern and fresh design that blends in with the existing Honda SUVs. The Prologue's generous dimensions and roomy interior position the SUV alongside the Passport in Honda's light truck lineup. This SUV offers a wheelbase of 121.8-inches and is about 8-inches longer and 5-inches wider than the all-new 2023 Honda CR-V. The Prologue with be 193 inches in length and 78.3 inches wide.
What size touchscreen will the Prologue have?
Inside the Prologue, you will find generous space for passengers and all their gear. The cabin will not just offer massive amounts of space but also feature state-of-the-art technology. The tech-rich cabin of the Prologue will have a standard fully digital 11-inch driver display panel and an 11.3-inch audio/connectivity display.
Honda's electrification rollout!
Honda aims to achieve carbon neutrality for all products and corporate activities by 2050. They plan to introduce 30 new EVs globally by 2030, with a global sales volume of 2 million units. Honda will release their EVs in an aggressive timeline of three initial phases leading to 2030 and ultimately to 100% zero-emission automobile sales by 2040. The Prologue is the first to be released. Then in 2026, Honda plans to launch e:Architecture. Finally, in 2027 Honda will begin selling a new series of affordable EVs.
CMA's Honda of Winchester is your one-stop shop for all things Honda!
If you will like to join Honda in creating a carbon-neutral world, head to CMA's Honda of Winchester, where we are proud to be community advocates. Our mission is moving lives forward for our customers, associates, and communities. We are pleased to offer our Local Heroes Program with sales & service discounts for teachers, healthcare workers, police, first responders, and military personnel.